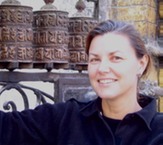 A little more about me.  If you are considering therapy, you will want to know your therapist, their qualifications, and how you respond to them so that you can really grow as much as you are capable in the process of therapy.  You can only grow as far as the therapist has grown!  So you may benefit from hearing my story.  I was born in Scotland and grew up on a farm in Fife.  In my twenties, I married my childhood sweetheart and moved to Greece (he was Greek), and lived there for 18 years.  We had two children who are now based in London.  I trained as an Educational Psychologist and Counselling Psychologist through the American University in Greece, and specialized in working with deep memory and trauma recovery.  I was a scholarship student, and graduated with a GPA 3.94 (for those of you in the UK system a 4.00 is a straight A, and 3.94 means I only had one or two A-!!).   I took many post-graduate trainings in hypnotherapy methods including Regression Therapy, which took people back to the cause of their problems, and worked with the pioneers of  Regression Therapy, who were in California.   I studied with them and was nominated to the Board of Directors or IARRT, or APRT as it was known prior to 1997.  I was one of their teachers for many years.  The incorporation of Regression work into therapy allows for a deeper releasing of trauma. I have also trained in Thai medial massage and know how to manipulate the body for further release of past trauma, as is needed in some regression sessions.  One of my earliest disciplines was astrology.  I graduated as an Astrologer in 1983, with distinctions and merits in my exams with the Astrological Association (16 hours of exams back then before computers).   I also worked with Michael Newton as he set up his Life-Between-Life trainings in Europe, and was an assistant on the Board of Directors. Having worked with the school that trained Michael, I have a broader perspective, and have developed simpler methods for helping people to connect to their spirituality.  I have developed my own training programmes and will offer trainings again in January 2014 for Integral Counselling and Transpersonal Hypnotherapy.
I returned to the UK a few years ago and continued working in Marriage and Family Therapy.  I specialized in Relationship Counselling and Psychosexual Counselling and have worked with thousands of people, both in the NHS and a charity that I worked with for several years.  I now run my own practice in Edinburgh from a quiet apartment on a crescent in the Centre of Edinburgh, just a short stroll down the hill from Waverly Station.  
I am conducting PhD research into the use of rTMShypnotherapy as a treatment for resistant depression, and obesity, and its relationship with biopsychology and neurochemistry.
I am available for appointments but require advanced booking.  If you would like to talk with me, call me 9.00-9.30 M-F. 07713247415